172.15 An Exceptionally Comfortable Ankle Brace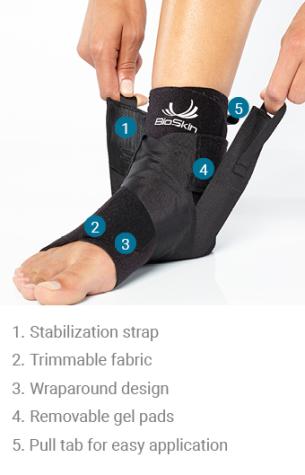 Details
The AFTR DC provides support and stabilization for post-op and non-operative treatment of many foot and ankle pathologies with the added benefit of its dorsal closure design for easy application. The brace includes medial and lateral plastic stays and a figure-8 stirrup strap to limit movement in the ankle and hindfoot. Made from the BioSkin material, it contours to the foot's anatomy during normal volume changes following injuries and surgery. The materials are noticeably comfortable, with the added benefit of being hypoallergenic, breathable, and thin.
Material and Care

Lightweight
Our braces are ultralight compared to the competition.

Dynamic Stretch
Our braces feature four-way stretch fabrics so they move when you do.

Breathable
Highly breathable materials help keep your skin cool and dry all day long.

Hypoallergenic
Hypoallergenic materials mean everyone can wear BioSkin braces.
Care: Hand wash in cold water and then hang to dry. For the face masks, machine or hand wash in hot or cold water and air or tumble dry.
Application Instructions
Reviews
An Adjustable Ankle Brace for Post-Operative Swelling
ENTIRELY ADJUSTABLE FIT
The AFTR DC is made with Velcro-compatible material so a customized fit can be achieved with every use. This is especially important for swollen ankles after a surgery or traumatic injury. As the swelling in the foot goes down, the patient can adjust the brace for a comfortably compressive fit each time.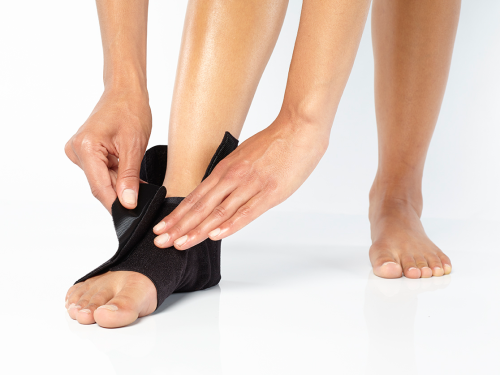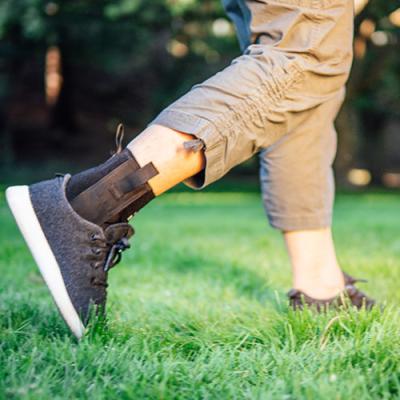 SLIM ENOUGH FOR MOST SHOES
The brace is designed to hug the foot and ankle so it can easily slide into most athletic shoes and sandals, unlike a standard lace-up ankle brace.
TRIM FOR A CUSTOM FIT
Everyone's feet are different,which is why we made the base sleeve fabric entirely trimmable. We recommend trimming the end of the brace to hit the ball of your patient's foot for the most comfortable fit. You can also trim the wraparound flaps and the top of the brace for even more customization.