196








A Smart Design Works With Your Body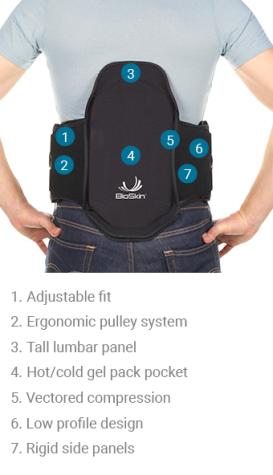 Details
The Baja 637 provides pain relief and extra stability throughout the sacral, lumbar and lower-thoracic spine. The semi-rigid lumbar panel provides sagittal control, while the lateral panels limit motion in the coronal plane. The lateral panels may be removed to step down patients' treatment over time. The bi-planar pulley system allows patients to easily apply targeted compression along the vertebral column and the paraspinal muscles. As patients engage the pulleys, the lumbar panel is drawn toward the spine and naturally conforms to the body. Integrated Hot/Cold Therapy The Baja 637 easily integrates hot/cold therapy into the system. The gel pads can be heated in the microwave or cooled in the freezer and then inserted directly to the lumbar pad. * "Prospective Study of Lumbar Back Brace In an Interventional Pain Practice." Rosenthal, Richard M.D. & Spencer, Shawn, BS. Practical Pain Management, (July/August 2011)
Material and Care

Lightweight
Our braces are ultralight compared to the competition.

Dynamic Stretch
Our braces feature four-way stretch fabrics so they move when you do.

Breathable
Highly breathable materials help keep your skin cool and dry all day long.

Hypoallergenic
Hypoallergenic materials mean everyone can wear BioSkin braces.
Care: Hand wash in cold water and then hang to dry.
Application Instructions
Reviews
Experience Immediate Lower Back Pain Relief
EASY TO USE
This sophisticated back brace uses an ergonomic pulley system to provide vectored compression to the low back. The pulley system easily slides on the rollers to pull the back panel into the lower spine to relieve pain and pressure in the area.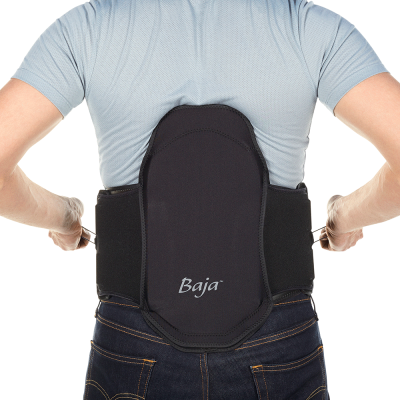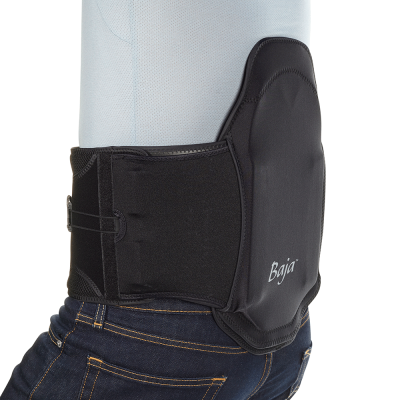 ADJUSTABLE FIT
The front panel of the Baja 637 is velcro-compatible and semi-rigid to allow for an easy-to-adjust fit and postural support. The rigid side panels are removable which qualify the brace for HCPCs code L0650 and L0648.
INTEGRATED HOT / COLD THERAPY
The back panel of the Baja 637 has a pocket to hold a hot/cold gel pack (two packs are included with the brace). Place the gel pack in the microwave for soothing heat, or in the freezer for pain-relieving cold therapy.