Shoulder Sling with Abduction Pillow
77.01








Abduction Shoulder Sling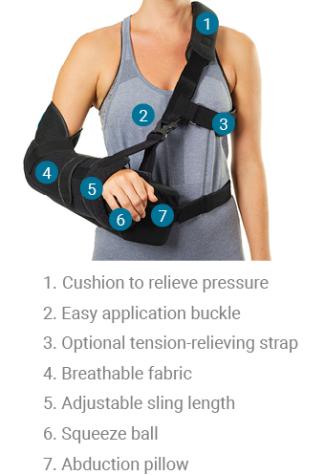 Details
The Shoulder Sling with Abduction Pillow allows you to support and abduct the shoulder after injury. The arm sling comfortably supports the arm, is adjustable in length, and fits the left or right arm. A cushion on the neck strap relieves pressure so the brace can be comfortably worn for extended periods. An abduction pillow may be placed on the waist to abduct the shoulder during rehabilitation. The shoulder sling can be used with or without the abduction pillow.
Material and Care

Lightweight
Our braces are ultralight compared to the competition.

Dynamic Stretch
Our braces feature four-way stretch fabrics so they move when you do.

Breathable
Highly breathable materials help keep your skin cool and dry all day long.

Hypoallergenic
Hypoallergenic materials mean everyone can wear BioSkin braces.
Care: Hand wash in cold water and then hang to dry. For the face masks, machine or hand wash in hot or cold water and air or tumble dry.
One size fits all shoulder sling with abduction pillow
COMFORTABLE MATERIALS
To maximize patient comfort and compliance, the brace includes moisture-wicking, breathable materials, cushions to alleviate pressure, and a one-handed buckle for easy application.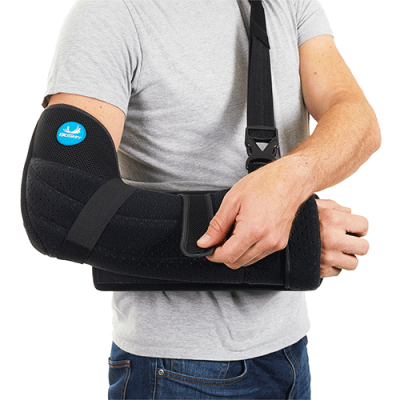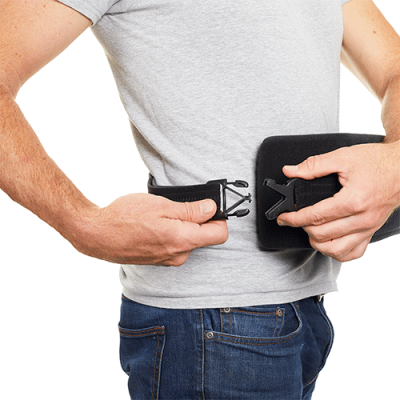 ABDUCTION PILLOW
A pillow is included to provide abduction to the patient's shoulder during rehabilitation. The abduction pillow buckles around the waist with an adjustable strap. The shoulder sling may be used with or without the abduction pillow.
UNIVERSAL SIZE
The Shoulder Sling with Abduction Pillow is available in one, universal size. The sling length, waist strap, and neck strap can all be adjusted for an individualized fit. Attach the optional chest strap to relieve tension on the patient's shoulder caused by the shoulder strap.