23.59






An Exceptionally Comfortable Elbow Sleeve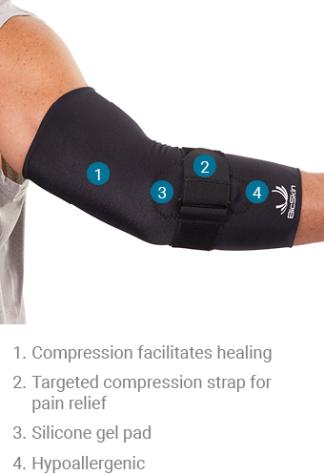 Details
The Tennis Elbow Sleeve with Gel is constructed from a highly breathable and compressive material for comfort and effectiveness. The sleeve includes a silicone pad and extra elastic strap that can be positioned where it can provide the greatest pain relief. Fasten the elastic strap for additional compression to the sore area. The compression above and below the joint helps reduce inflammation, increase circulation, and enhance recovery.
Material and Care

Lightweight
Our braces are ultralight compared to the competition.

Dynamic Stretch
Our braces feature four-way stretch fabrics so they move when you do.

Breathable
Highly breathable materials help keep your skin cool and dry all day long.

Hypoallergenic
Hypoallergenic materials mean everyone can wear BioSkin braces.
Care: Hand wash in cold water and then hang to dry. For the face masks, machine or hand wash in hot or cold water and air or tumble dry.
Application Instructions
Get Instant Pain Relief from Tennis Elbow and Golfer's Elbow
CUSTOMIZABLE PAIN RELIEF
The Tennis Elbow Sleeve is constructed with a silicone gel pad and targeted compression strap on one side of the sleeve. For Tennis Elbow, position the gel pad over the lateral epicondyle. For Golfer's Elbow, slide the gel pad to the medial epicondyle.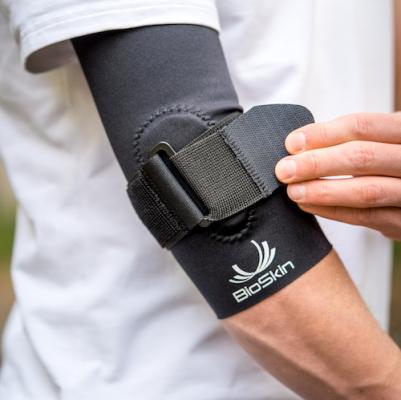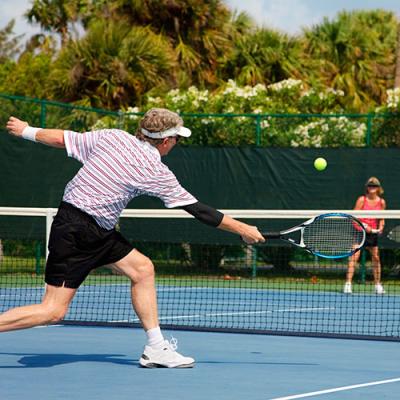 COMPRESSION SPEEDS RECOVERY
Medical-grade compression has been shown to increase circulation and reduce inflammation. Use this sleeve and targeted compression on your patients to support their joints and relieve their pain while the injury heals.
HYPOALLERGENIC AND BREATHABLE
Our material provides medical-grade compression, but it is also hypoallergenic, lightweight, and extremely breathable. We made sure the Tennis Elbow Sleeve is comfortable to wear all day long.