Wrist and Thumb Pain and Injury Solutions | BioSkin Bracing
The wrist and hand are made up of many small bones and important ligaments, tendons, and nerves. Wrist pain, thumb pain, and hand pain are common complaints and are usually caused by overuse or direct force from a fall. The median nerve supplies pain and sensation to the hand and travels through a small space in the wrist known as the carpal tunnel. Several conditions and injuries can cause this space to swell which puts significant pressure on the median nerve, leading to Carpal Tunnel Syndrome. Another common complaint is an injury to the ligaments connecting the thumb to the hand. The ulnar collateral ligament can become stretched or torn after a fall with an outstretched hand, leading to a thumb sprain or Skier's Thumb.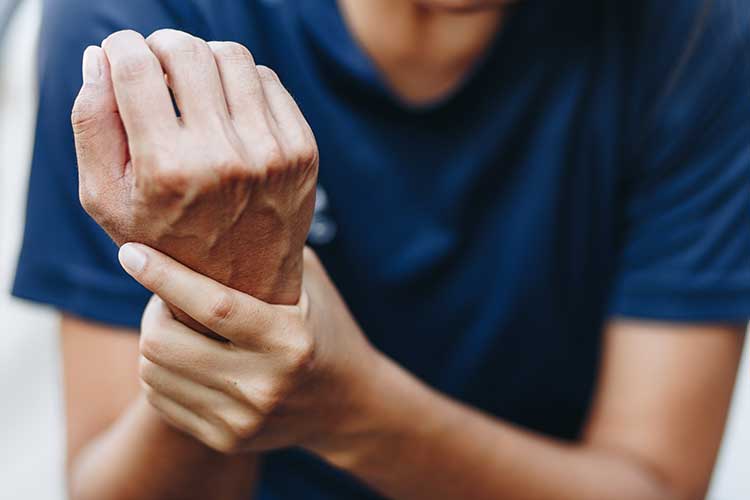 Common Wrist and Hand Injuries and Conditions
BioSkin Wrist & Thumb Braces are designed to work with your anatomy to enhance recovery and relieve pain. Find your injury below to learn more.
Category Featured-Posts
A wrist sprain usually occurs suddenly after a fall. Most doctors recommend a wrist brace in order to provide stability and limit range of motion during rehabilitation.

Read more »

A thumb sprain, or Skier's thumb, is an injury to the ulnar collateral ligament. Most doctors recommend a thumb or wrist brace in order to provide stability to the joint.

Read more »

Carpal tunnel syndrome causes pain, numbness, and tingling in the hand. A wrist brace will reduce inflammation and provide stability using compression and supports.

Read more »
The most comfortable and functional wrist brace around for moderate support and pain relief.

HCPCS Code L3908
Product # 5423*

A simple thumb spica to protect the thumb from unwanted movement.

HCPCS Code L3923
Product # 5450*

A low-profile wrist compression wrap that fits on either wrist.

HCPCS Code A4466
Product # 54200