218.8




An Ergonomic Design Provides Comfortable Support and Pain Relief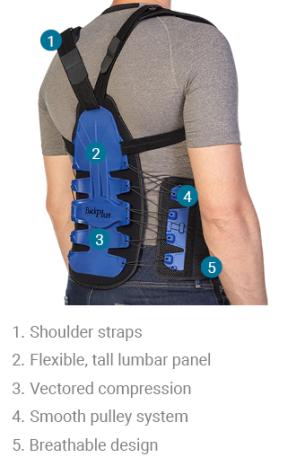 Details
Combines the pain-relieving benefits of compression with stabilization after an injury or procedure to promote proper positioning during healing. The cinching mechanism allows a patient to easily apply circumferential compression. The shoulder straps anchor the shoulders to the back panel, limiting thoracic and lumbar flexion, extension, and rotation. Includes two hot/cold gel pads that attach to the lumbar panel to enhance patient comfort and maximize pain relief. Gel pads can be cooled in the freezer or heated in the microwave.
Material and Care

Lightweight
Our braces are ultralight compared to the competition.

Dynamic Stretch
Our braces feature four-way stretch fabrics so they move when you do.

Breathable
Highly breathable materials help keep your skin cool and dry all day long.

Hypoallergenic
Hypoallergenic materials mean everyone can wear BioSkin braces.
Care: Hand wash in cold water and then hang to dry. For the face masks, machine or hand wash in hot or cold water and air or tumble dry.
Application Instructions
Reviews
Pain Relief from Spinal Stenosis, Herniated Discs, and Chronic Back Pain
EASY TO USE
The Back Plus uses an ergonomic pulley system to provide vectored compression to the low back. The pulley system easily slides on the rollers to pull the flexible back panel into the lower spine to relieve pain and pressure in the area.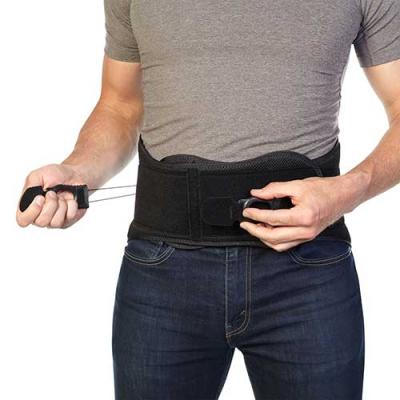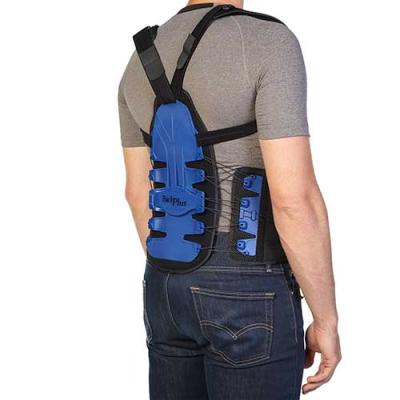 FLEXIBLE SUPPORT AND SHOULDER STRAPS
Everyone's spine has a slightly different curvature, which is why we created a flexible yet rigid back panel to comfortably conform to any lumbar region. The Back Plus tall lumbar panel provides postural support and pain relief without sacrificing all-day comfort for your patients. Shoulder straps provide additional support and stability.
INTEGRATED HOT / COLD THERAPY
The back panel of the Back Plus has a pocket to hold a hot/cold gel pack (two packs are included with the brace). Place the gel pack in the microwave for soothing heat, or in the freezer for pain-relieving cold therapy.