CrossFire ROM - Wraparound
114.36 An Exceptionally Comfortable Brace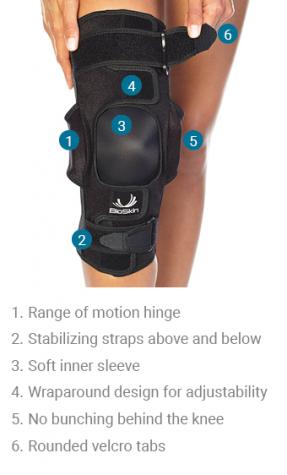 Details
This lightweight and supportive hinged knee brace is ideal for people recovering from a variety of knee injuries who want to remain mobile and active while they heal. The hinge has easily adjustable range-of-motion control to limit flexion and extension. The top and bottom of the hinge can be bent for a customized fit. An inner sleeve provides compression to help reduce swelling and reduce pain. The top and bottom wraparound flaps are velcro-compatible to allow for an easy application and fitting process.
Material and Care

Lightweight
At only one millimeter thick, our braces are ultralight compared to the competition.

Dynamic Stretch
Our braces feature four-way stretch fabrics so they move when you do.

Breathable
Highly breathable materials help keep your skin cool and dry all day long.

Hypoallergenic
Hypoallergenic materials mean everyone can wear BioSkin braces.
Care: Hand wash in cold water and then hang to dry. For the face masks, hand wash in warm water and air or tumble dry.
Application Instructions
STEP 1
Open the brace and slide up your leg with the inner sleeve centered over your kneecap.
STEP 2
With your leg slightly bent, fasten the two middle Velcro flaps around the kneecap, followed by the outer flaps.
STEP 3
Tighten and attach all four thigh and calf straps. Attach the straps behind the leg first.
Reviews
Stay Active with this Lightweight Hinged Knee Brace
MOTION CONTROL
The hinges are made from an extremely lightweight aluminum and contain an easily adjustable motion control center to limit specific degrees of flexion and extension.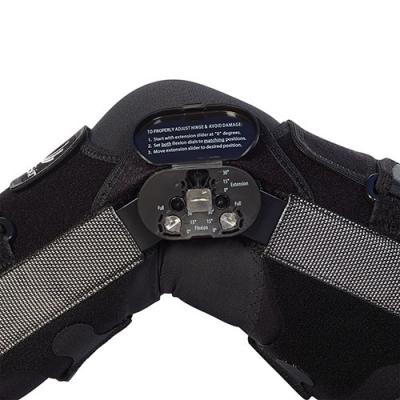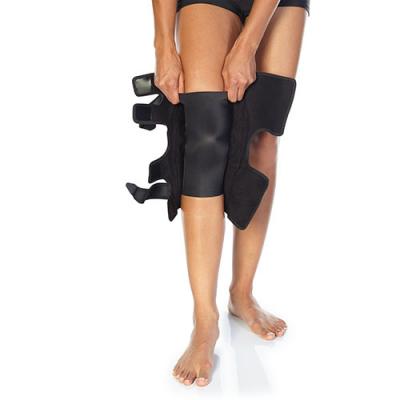 HYBRID WRAPAROUND DESIGN
An inner sleeve makes applying the brace easy. The sleeve holds the brace in place so the user has both hands available to adjust the fit. The sleeve also provides compression to the entire knee to control swelling and deliver pain relief, while the wraparound component of the brace provides more sizing flexibility and a perfect fit.
ALL DAY COMFORT
We've placed our exceptionally lightweight Cirrus material behind the knee without any irritating seams. This back panel is sewn in a slightly flexed position, virtually eliminating bunching behind the knee.