117.22 An Exceptionally Comfortable Brace
Details
The CrossFire ROM is designed to protect knees with ligament tears or sprains. The rigid uprights are slightly flared to contour to the leg's natural shape and provide stability so patients can move and be active with confidence. The thin hinge is easy to adjust for flexion and extension control during patient rehabilitation. This hybrid, front-closure design provides all the benefits of a wrap-around and a pull on. The Bio Skin material is very comfortable with a highly-compressive single-layer portion surrounding the knee. This Cirrus™ material is sewn in a pre-tensioned manner to prevent bunching behind the knee which ensures a comfortable fit throughout vigorous activity. The brace's comfort continues into the small details of how it is sewn together; featuring the ActiveSeam™ stitch that prevents unwanted chafing in the more sensitive areas of the knee.
Material and Care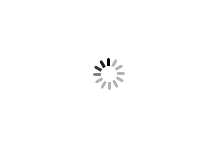 Lightweight
At only one millimeter thick, our braces are ultralight compared to the competition.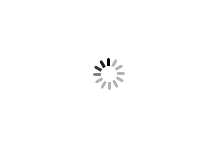 Dynamic Stretch
Our braces feature four-way stretch fabrics so they move when you do.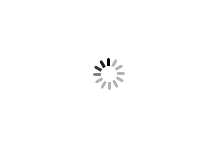 Breathable
Highly breathable materials help keep your skin cool and dry all day long.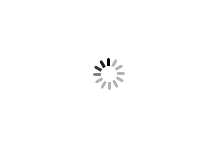 Hypoallergenic
Hypoallergenic materials mean everyone can wear BioSkin braces.
Care: Hand wash in cold water and then hang to dry. For the face masks, machine or hand wash in hot or cold water and air or tumble dry.
Application Instructions
Reviews
Stay Active with this Lightweight Hinged Knee Brace
MOTION CONTROL
The hinges are made from an extremely lightweight aluminum and contain an easily adjustable motion control center to limit specific degrees of flexion and extension.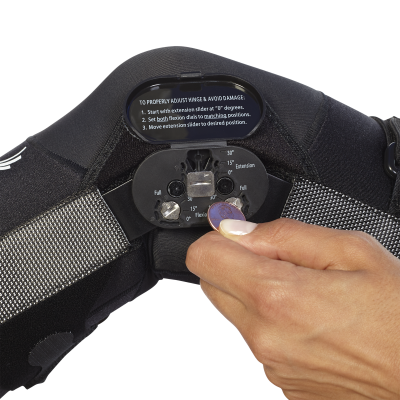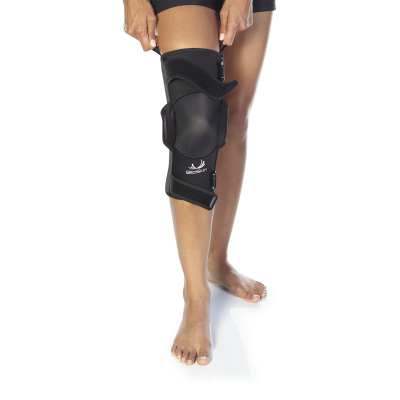 ANTERIOR COMPRESSION
The closed-patella design provides anterior compression to help correctly seat the patella in the trochlear groove. This helps the knee flex and extend smoothly and without pain.
ALL DAY COMFORT
We've placed our exceptionally lightweight Cirrus material behind the knee without any irritating seams. This back panel is sewn in a slightly flexed position, virtually eliminating bunching behind the knee.