Walking Boot/Pneumatic (Tall)
51.49
Comfortable Pain Relief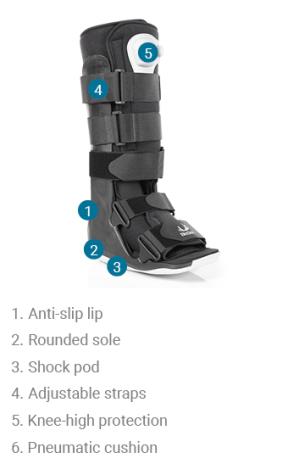 Details
The Pneumatic Walking Boot (Tall) protects the foot and decreases pain in order to provide enhanced rehabilitation following surgery or traumatic injury. A low profile rounded sole accommodates a natural gait pattern and allows for greater maneuverability while continuing to protect the foot and ankle. A Shock Pod in the sole of the walking boot absorbs over 50% of the force from heel strike, decreasing pain while walking. The pneumatic pump fills the cushion with air for comfort and swelling control. An anti-slip lip allows for easy elevating of the leg in order to further manage swelling during the recovery process. Fully adjustable straps along the length of the boot create an easy-to-size product.
Material and Care

Lightweight
Our braces are ultralight compared to the competition.

Dynamic Stretch
Our braces feature four-way stretch fabrics so they move when you do.

Breathable
Highly breathable materials help keep your skin cool and dry all day long.

Hypoallergenic
Hypoallergenic materials mean everyone can wear BioSkin braces.
Care: Hand wash in cold water and then hang to dry. For the face masks, machine or hand wash in hot or cold water and air or tumble dry.
Application Instructions
See packaging instructions included.
Reviews
A Walking Boot Patients Want to Wear
PNEUMATIC CUSHION
A pneumatic pump fills the internal compartment with air in order to provide cushioning and swelling control during use.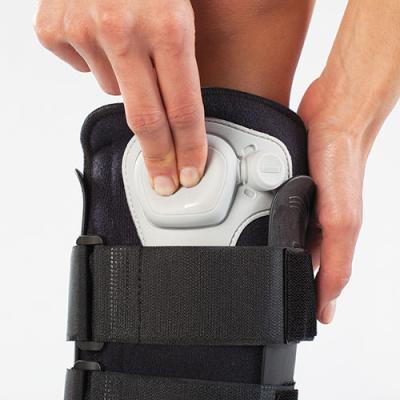 INNOVATIVE SOLE
A rounded edge sole with a Shock Pod accommodates a natural gait while absorbing 50% of the impact during the heel strike phase. This allows for comfortable and protected movement during rehabilitation.
LOW PROFILE DESIGN
The low-profile design and adjustable straps create a product that is easy to fit and comfortable to wear.