30.49






Comfortable Compression and Stabilization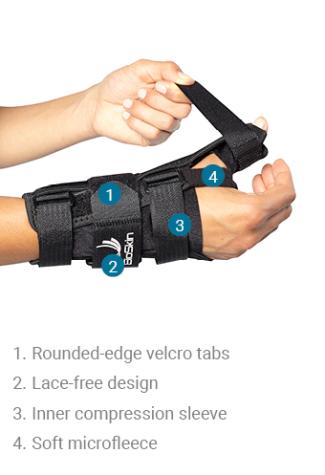 Details
The Wrist Thumb Spica helps ease the pain and speed recovery of many wrist and thumb injuries. We've designed the brace to be lightweight and comfortable while providing the necessary support to injured wrist and thumb joints. Soft microfleece is placed against the skin and a customizable, aluminum stay is used along the thumb joints for immobilization. The design allows for full use of the fingers while immobilizing the injured thumb and providing compression to the wrist joint for extra blood flow and enhanced recovery. Since there are no laces, the brace is quick and easy to apply with one hand.
Material and Care

Lightweight
Our braces are ultralight compared to the competition.

Dynamic Stretch
Our braces feature four-way stretch fabrics so they move when you do.

Breathable
Highly breathable materials help keep your skin cool and dry all day long.

Hypoallergenic
Hypoallergenic materials mean everyone can wear BioSkin braces.
Care: Hand wash in cold water and then hang to dry. For the face masks, machine or hand wash in hot or cold water and air or tumble dry.
Application Instructions
Thumb Immobilization with Full Use of Fingers
FULL USE OF FINGERS
The design of the Wrist Thumb Spica allows for full use of the patient's fingers while immobilizing the injured joints in their wrist and thumb.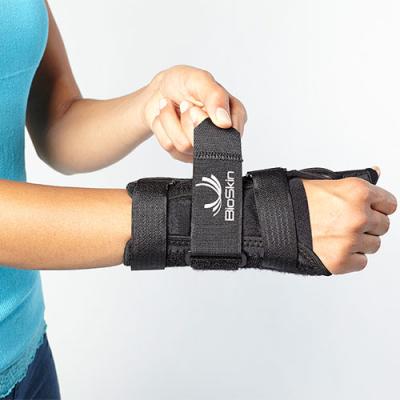 NO LACES
The Wrist Thumb Spica is designed without laces so application for your patients is easy to do with only one hand after they leave the clinic.
WRIST COMPRESSION AND SUPPORT
An inner compression sleeve is used as the base of the Wrist Thumb Spica to provide pain-relieving compression and stabilization to the injured wrist joint.